About Us
The Church
Christ Lutheran Church is a member of LCMC (Lutheran Congregations in Mission for Christ). We are located at 25816 North Tournament Road in Santa Clarita, California. The church property consists of the Sanctuary (including office space), Fellowship Center, Youth Center, Preschool, and Education Center. For more information, please visit www.clcscv.org.
 
The Community
The city of Santa Clarita is located just 30 miles north of Los Angeles and 30 miles east of the Pacific Ocean. It is a master-planned community with award-winning school districts, a variety of family-friendly activities such as hiking and biking trails, as well as sports programs for children and adults. It is continuously voted as one of the safest communities in California and one of the best places to raise a family. For more information about the community, its schools and amenities, please visit www.santa-clarita.com/residents/new-to-santa-clarita.

Our Mission
Christ Lutheran Church exists to guide people into growing union with Christ.
History

In September of 1961, Clarence "Jerry" Lund, was assigned by ALC Missions to start a Lutheran Church in the Santa Clarita Valley. The first meetings were held in a local home before moving into a roller rink located near Bouquet Junction. A congregational meeting was held in March 1962 to officially form Christ Lutheran Church of Newhall. The first building was a temporary structure on Market Street built by ALC Missions that had a sanctuary, office space and space for Sunday School classes. Each Sunday, 100 chairs were set up.
When Newhall Land & Farm announced plans to develop a new community called Valencia, the church purchased a 2 ½ acre parcel on Tournament Road for $100,000 in 1971. The first building, on the site of our current Fellowship Center, was built in 1975, becoming the Sanctuary. Paul Kloth became the second pastor of CLC in 1970. In 1972, our Preschool was established.
In January 2004, a new Sanctuary building and a Youth Center were built, and the Fellowship Center was renovated. Our first youth director was hired in 1997. Pastor Paul Kloth retired in 1999. We were then led by Pastor Joe Campeau from 1999 until his retirement in 2020, with Associate Pastor Dan Parr serving from 2000 to 2011 and Associate Pastor Mike Matzek from 2008 to 2020. Our current Lead Pastor, Garrett Siemsen, began his ministry in March 2020.

Current Staff

Garrett Siemsen, Lead Pastor, Full Time
Steven Neaton, Digital Ministry Director, Full Time
Esther Siegen, Children's Ministry Director, Part Time
Judy Barnes, Communications & Media Director, Part Time
Art Miller, Music Ministry Director (8:30), Part Time
Dana Schmidt, Music Ministry Director (10:00), High School Ministry Coordinator, Part Time
Brett Bailey, Organist, Part Time
Teri Gaudioso, Business Manager, Part Time
Linda Bonar, Office Manager & Facilities Coordinator, Part Time
Monica Santiago, Preschool Director (employed by the Preschool), Full Time
Starting August 2021: Joe Hill, Pastoral Intern & High School Ministry Director, Full Time
 

Church Council
Christ Lutheran's governing body is currently made up of seven members; Heidi Metlen is the Council President for 2021.

Call Committee
Our Call Committee consists of our Lead Pastor and six congregation members, including the Chair of the Call Committee Don Vulich.
Congregational Demographics
Our current membership is 837, and the total active membership is 656, with 80 of those active members under the age of 14. We have 144 active member families.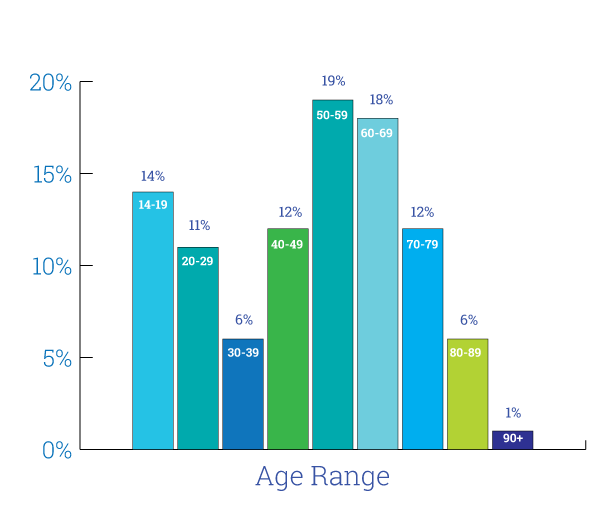 Financials
Christ Lutheran Church operates with an annual budget of approximately $1,000,000. 
Property Valuation: $8,250,000. 
Current Mortgage: (4.13% 20 year fixed, matures 2039) $1,810,793
2021 Budget available upon request.